Cannabidiol CBD Selection Process
Aloha, over the years we have included into treatments Young Living Therapy Grade Oils, prospected and searched for the very best organic coconut oil that resembled the flavor, smell and lathering capacity of local Hawaii coconuts with the introduction of Samoan Cold Pressed Organic Coconut Oil sourced from Samoan coconuts. The inclusion of quality Noni Juice for the Spa Journey Organic Tropical Renewal treatment, Cooling gels, and eye brighteners tried and tested through working with these products and observing its effectiveness and feedback from guests working in other Spa establishments and through personal experimentation. For guests, we strive for only the tried and tested items, utilizing only the highest quality to provide the results guests expect in their massage and facial skin care service. Providing guests with the faith, confidence and integrity through personal tests and experimentation using our bodies to vet products and services introduced for use in treatments at Honua Therapeutic Massage. We honor the local traditional ways of massage by combining the use of herbs for massage and skin care as in the traditional Lomi Lomi Customs of Hawaii to synergize and amplify the effects of massage, facial skin care for general health and wellbeing. At times there are items that we have used and tried we have come to accept are not of the best quality and phased out. The trial and error approach from beta testing results with therapists, trial guests and actual use during treatment and feedback from guests has been and will be the only viable way to find out whether the company, our vendor's statements are believable, hold integrity and provide effective results for guests.
CBD Trend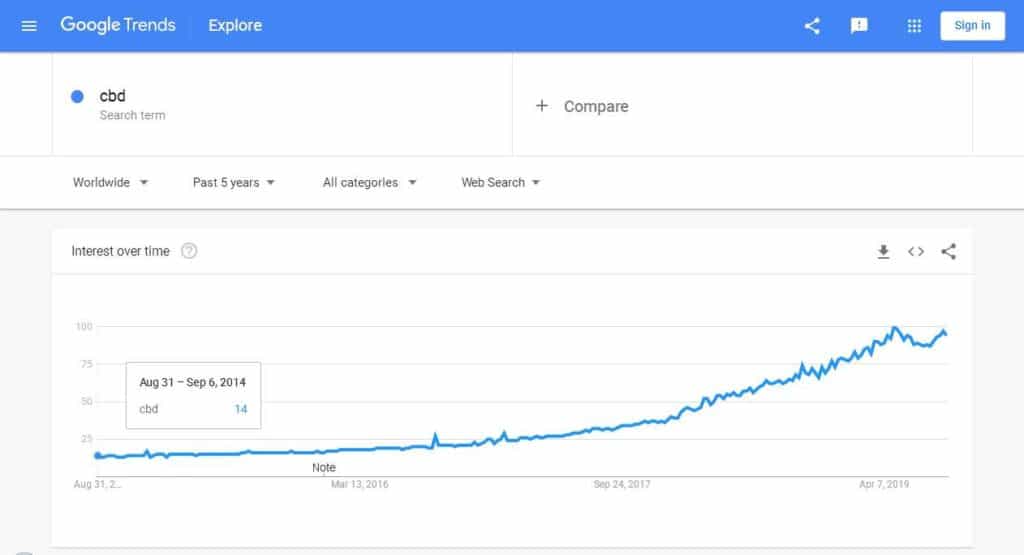 Continuing in this mission, there has been much buzz and anecdote about the effectiveness of Cannabidiol "CBD" as indicated in the Google Trend above. The acute slope of this trend shows us that the intent to buy and use CBD among the people interested and searching for information about CBD shows remarkable growth. We have been following this trend for a few years now. Personal use of various CBD products over the last number of years testing various delivery methods and products from home made full spectrum CBD tinctures, Charlotte's Web balms to vapes and other branded items have been used. We notice a tremendous explosion in the number of CBD products and vendors available now compared to 3 to 4 years ago making selection more difficult and confusing. Currently, We utilize CBD personally for recovery from martial arts practice, strength and conditioning training recovery, pain, muscle pull, joint hyper extension, muscle strain inflammation reduction and mitigation. Also managing inflammation from consuming fried foods, and other highly inflammatory foods such as meats, dairy and foods containing complex sugars such as sweets and desserts. We also notice more focus and less distractions from anxiety and feelings of sorrow, grief, worry, and doubt which we have been experiencing the last several weeks, since our aunt who was our reception past away from Leukemia on July 17, 2019. The most remarkable effect of taking 33 mg of CBD drops under the tongue right before bed time daily for us has been the drastic improvement in sleep. Many or virtually all stresses, preoccupations and thoughts racing in our head we take to bed quiet down and subside, allowing for a much higher quality recuperative deep sleep.
We take CBD a step further by combining Turmeric / Curcummin + Piperine or Bioperene "Black Pepper" with CBD. The three items CBD, Turmeric and Black Pepper extracts together personally offer some of the most effective natural ways to combat inflammation experiencing great benefits eliminating Naproxen or Ibuprofen pharmaceuticals all together since experimentation on ourselves started in 2012. We are fortunate not to have any allergic reactions to CBD and turmeric and are able to sustain daily consumption by food recipes rich in Turmeric such as curry recipes, sublingual consumption of approximately 33 mg of CBD per day and an additional 400mg to 5000mg of Turmeric / Curcummin + 10mg of Piperine supplementation depending on the situation to promote noticeable inflammation response plus other immuno-enhancing health related benefits. Efficacy after years of regular use in our personal lives leaves no question as to whether these items work or not for our unique metabolism, physiology and genetics. Continuing to study and learn of the scientific advances, research and development of CBD in order to understand and rule out the possibility of psycho somatic placebo effects of CBD are a very important consideration and possibility that we must not dismiss or discount.
Limits of Research
Due diligence was performed researching products recommended by Consumerlabs and attempting to understand independent lab tests of various CBD products such as BlueBird Botanicals, Charlottes Web. Other CBD products some of which include Hemp Bombs, Royal CBD, Zuri and Game Up Nutrition were studied and considered for their price, potency, purity, lab test data, materials sourcing, manufacturing process etc. Simply reading or viewing video and audio content about a product has not answered the question of which CBD products are most effective for our guests to provide greater synergistic results for massage therapy, facial skin care, and general health and well being. What is the ideal CBD product for Guests? What we want in a CBD product for our guests are the results claimed in the efficacy of CBD or the entourage combination of other cannabinoids. A product with the highest milligram potency, purity, organically sourced hemp cannabinoids with the lowest possible THC levels available on the market at reasonable cost that will avoid guests failing random employment drug screenings and sport / athletics drug testing for THC.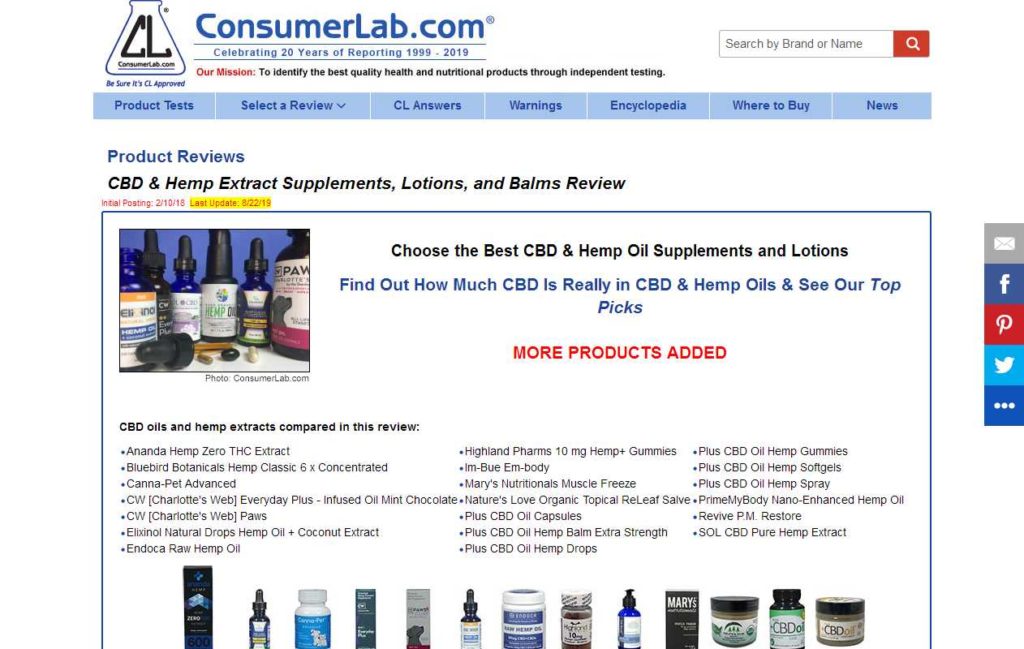 We read a conflicting article published by the Alliance for Natural Health questioning the methodology of how the voluntary testing program fee paid to Consumerlabs for CBD lab tests affect how lab test results are disclosed and undisclosed. Meaning,not all tests conducted by Consumerlabs are disseminated to the public. This sort of contrary feedback and criticism of Consumerlabs disclosure policies assist us in prioritizing how reliable lab vendors and company's information can be furthering assisting us to choose the CBD vendor with the highest integrity in the best interests of Honua Therapeutic Massage guests and repeat customers..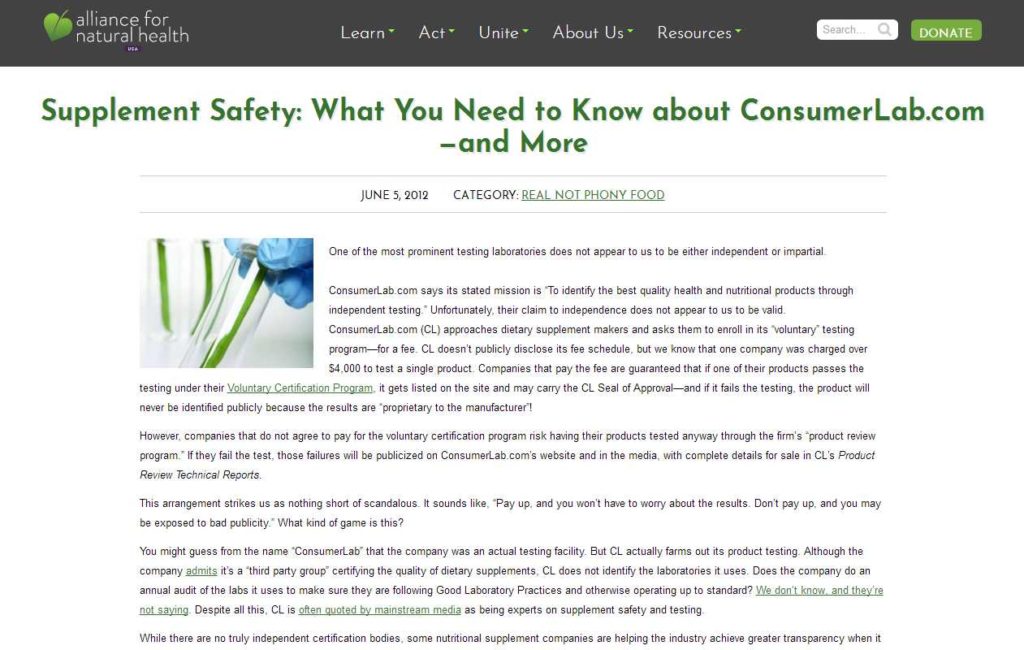 BH Synergy Group published an article summarizing consumerlabs CBD test results providing insight on lab tests of various CBD products. What was learned was that many CBD vendors and products claim a specific cannabinoid dose is part of their ingredients yet lab tests indicate the contrary. Meaning there are indications of exaggerated claims and out right dishonest information published and marketed.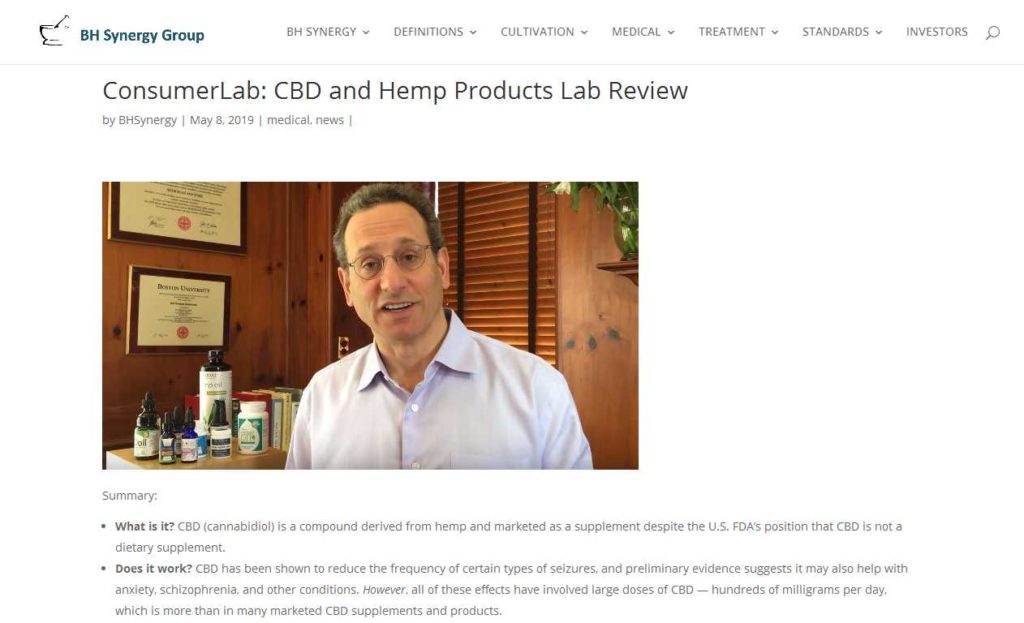 We see the FDA publishing warnings about CBD products and their actual contents, ingredients of products not necessarily in line with what was published on the product labels. How reliable product label information is, the integrity of the CBD manufacturers claims, integrity of FDA testing and reporting are all in question. A decision must be made ourselves and must conduct our own tests the best ways we can and not wait for others to do this for us, to continuously improve our success rate of results long term for the guests. With the number of new CBD related products and companies capitalizing on the worldwide exponential growth and acceptance of CBD, we do not have confidence in most CBD company's quality control processes, lab vendors processes, or the FDA's integrity to have a relatively unbiased good will, manpower capability or funding to keep up with testing, verifying new scientific breakthroughs, advances in cannabinoid products entering the market and their medical applications.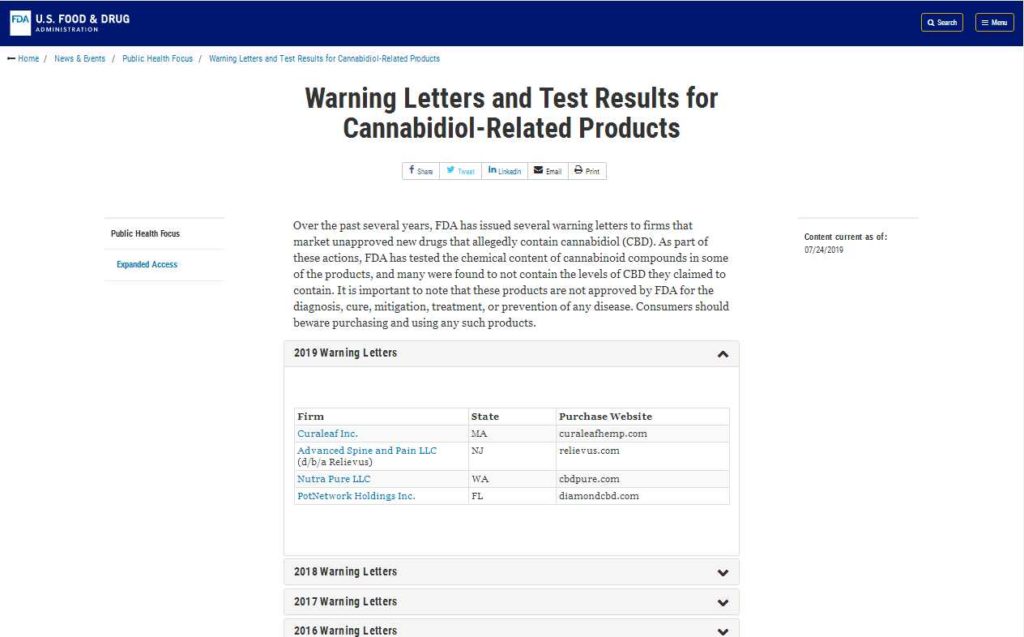 We are caught in a dilemma of who is speaking truth and being candid about their published information. Do readers have the same dilemma we do dealing with conflicting view points while researching something on the internet and being more confused and indecisive than before? The answer falls back to our previous article about the Best Massage for You. There is really no way to know unless we field test these items ourselves and draw our own conclusions starting with companies who you feel can be trusted with high integrity and confidence.
Contaminated CBD Products Safety and Vendor Integrity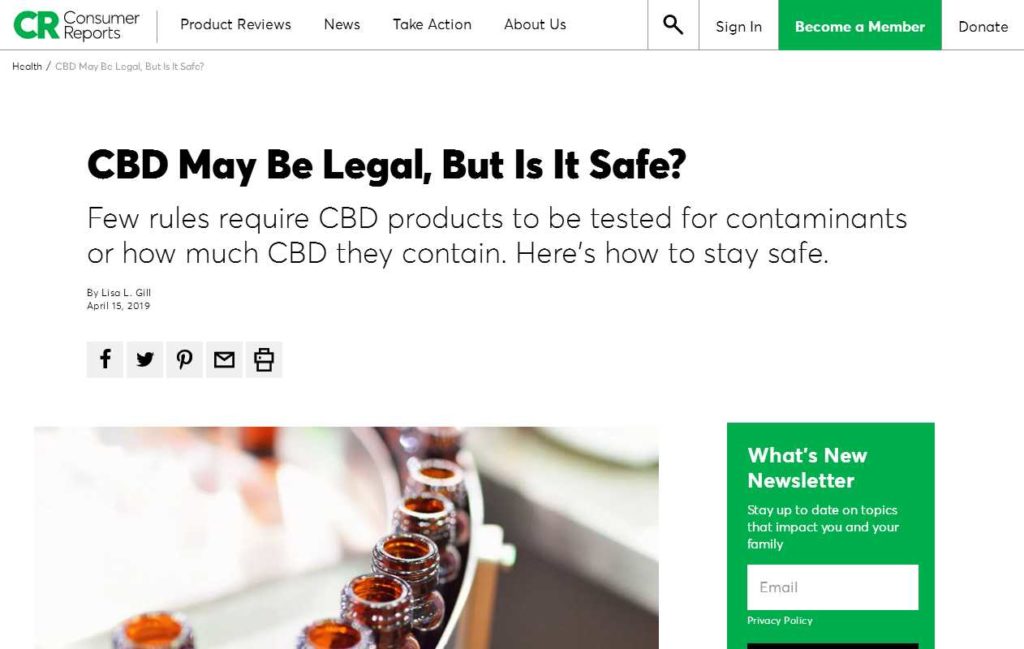 Utah and Colorado State are hot beds for hemp production utilized for CBD extraction, manufacturing and sourcing. Consumer Reports from December 7, 2017 published a story of 52 individuals ingesting a contaminated CBD product by Yolo CBD and other unidentified makers containing a hazardous synthetic cannabinoid 4-CCB "4-cyano Cumyl-Butinaca" with 31 individuals admitted to Emergency Rooms in the Salt Lake City area. No CBD was reported in the Yolo CBD pill samples submitted to local law enforcement for testing. The report above is an alarming caution for anyone taking over and under the counter supplements. In order to avoid poisoning and contamination careful long term monitoring of owners of CBD manufacturers is warranted. For this very reason we lend credence to companies like Game Up Nutrition owned and managed by Nick and Nathan Diaz perceived as candid sincere people with honor and integrity being life long martial artists, warriors and students of Cesar, Kron and Rickson Gracie Jiu-Jiutsu. Another reason for lending credence to the Diaz brothers is their vast knowledge of nutrition, diet and meticulous care in the foods and nutrients they allow into their system for general high performance health, for their experience and wisdom in recovery and recuperation as professional triathletes, martial artists and fighters.
CBD Dosing Efficacy
Consumerlabs and BH Synergy speak of dosage for clinical purposes vs. consumer purposes. What was understood from the inferences drawn from the lab test results indicate several hundred milligram dose ingestion spread out over a 24 hour period daily are required for extended long term periods to measure if conditions such as epilepsy, schizophrenia, glaucoma, Parkinson's disease can be treated with CBD or other Cannabinoid combinations. However in terms of anxiety stress, inflammation and improving sleeplessness, milligram doses daily offer some indication of efficacy in reducing anxiety, inflammation pain and insomnia. Research will be ongoing and may take years to understand and observe conclusive efficacy for CBD to remedy anxiety stress, insomnia and chronic diseases. There seems to be mixed information regarding CBD benefits for inflammation reduction and recovery from high impact movements, sports and athletics.
Mixed Impressions of CBD Efficacy
There are mixed impressions from the millions of users that have tried or use CBD. Reviews from many CBD sites, articles, videos express CBD having positive effects in reducing inflammation, pain, promoted as a immuno-enhancer and recovery aid for injury, over use, wear and tear of joints, ligaments, tendons. Users report anxiety reduction, relaxation and calmness. The contrary opinions and anecdotes mention experiencing little to no effects. Dissatisfied and disappointed expressing CBD was a huge waste of money and resources. Whether the feedback was positive or negative, we notice most of the feedback tests were durations of one week, 30 days or a few months. We feel this sort of short term duration testing is wholly inadequate amount of data sets to measure personal efficacy. Preferably months to years of testing would provide more reliable data. In addition, there are too many variables to consider. Some of the variables include products from different makers, frequency of dosages, proper dosage amounts for which specific conditions, bio availability, physiology, genetics, metabolism, biochemistry, delivery methods and other currently unforeseen factors. We understand that efficacy is unique and must be tested on an individual basis. Then taking swaths of individual's feedback data over years to measure actual effects will assist in finding our answers. We can imagine batteries of tests would have to be performed using vapes, creams, oils, balms, roll ons, tinctures, foods, pills, infused with CBD, various modes of sublingual ingestion, injection, topical applications combined with consideration for the variables above would be required for testing. The sheer number of possible combinations of variables, time and testing processes required to measure whether bio availability, physiology, genetics, metabolism, biochemistry, delivery methods and other currently unforeseen factors together make testing difficult for small businesses. Therefore research, testing and clinical trials of this magnitude are for well funded private companies with expertise such as the recent joint CBD research and development partnership with the UFC and Aurora Cannabis.
UFC and Aurora Cannabis launch clinical research to create CBD for MMA athletes
Endocannabinoid system (ECS)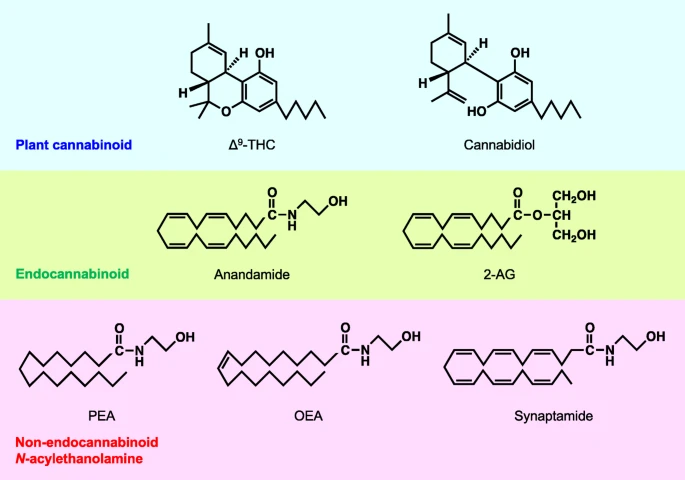 ECS is our bodies capacity to produce our own cannabinoids termed endocannabinoids, regulate cannabinoids and bind cannabinoids that cross the blood brain barrier meaning the mechanism our bodies use to assimilate and metabolize various cannabinoid molecules. Cannabinoids in studies have indicated to provide some to major roles in regulating, promoting, neurological function, liver function, reproductive function, digestion, skeletal bone production, sleep, stress, cardiovascular function, muscle production, mood, skin and dermal function, memory and motor functions etc. Several studies indicate genetic mutations in ECS of certain individuals with relatively higher production of endocannabinoids reduce the efficacy of consumer level milligram doses of CBD products taken orally, topically or by respiration. There seems to be a great deal we do not understand about (ECS) and research is ongoing. Our questions are, How do we measure practically how our ECS interacts with cannabinoids and cannabidiol molecules? Do users have to understand and know whether their genetic predispositions and phenotypes are receptive to cannabinoids or not very receptive to cannabinoids first before any inferences can be drawn from potential efficacy of sublingual or topical applications of CBD? Are the CBD milligram doses taken accurate? Is the CBD maker's contents and product label exact and congruent? For more information on the biology of ECS in relation to inflammation, regeneration and metabolism, check the article by Bio Medical Central here.
Bio Availability Water Soluble Insoluble CBD
Absorption and bio availabilty topics have centered around Water soluble and Insoluble CBD products. We have Alexey Peshkovsky, Ph.D from Sonomechanics and CBD manufacturers claim water comprises the majority of our bodies. Macroemulsions, microemulsions, liposomes, nanoemulsions manufacturing processes that mix oil and water with the use surfactants, or ultrasound to generate sufficient sheering forces to break up oil water droplet surfaces, reintegrate them into nanometer size oil and water homogenous droplets have the ability remain stable for years. This form of extraction claims to increase the bio availability of CBD into a water soluble state.
How about the ingestion of CBD with dietary fats? We have other studies from National Center for Biotechnology Information indicating that consuming cbd with dietary fats such as cookies, coconut oil, MCT oil lipid based mixtures with cannabidiol increase the bio availability and absorption by x2.5 to x3.0 in comparison to cannabidiol intake without dietary fats. How do we reconcile the two differing viewpoints? Does water soluble and insoluble Cannabidiol really matter? The opinion is, we do not know conclusively. What we know is that the price of water soluble CBD products command a premium price compared to water insoluble CBD products. The higher price is understandable learning about the processes utilized to create water soluble cbd droplets that maintain their structure for extended periods of time for the product to have sufficient shelf life.
CBD Isolate and Full Spectrum Cannabinoids
Which CBD formulation is better Full Spectrum which includes many types of cannabinoids including THC, Broad Spectrum including many types of cannabinoids with minimal THC or Isolate containing only CBD without other cannabinoids and 0.3% or less THC? This sort of question is probably not the best question to decide on an optimum formulation as the needs of people are diverse and the research and manufacturing processes are still advancing and developing. In the future we anticipate custom cannabinoid cocktails will come to market similar to dispensaries. At present, Full Spectrum includes not only CBD, but other cannabinoids such as Cannabigerol "CBG", Cannabinol "CBN", Cannabichromene "CBC", Cannabidiolic Acid "CBDA", Tetrahydracannabivaren "THCV", Terpenes "aroma portion of oils" that may assist as a delivery mechanism for topical application of cannabiniods, proteins and Flavinoids extracted from Hemp. Full Spectrum CBD proponents argue that the Entourage effect which means a combination of many different cannabinoids ingested together have a synergistic multiplying effect. Others argue that the entourage effects may also have adverse counter productive effects when various cannabinoid combinations are ingested or applied together. Several studies argue that a 1:1 ratio of CBD and THC taken together enhances the beneficial aspects of CBD while mitigating the psychoactive effects of THC. Others argue that isolates being an extracted form of only CBD and minimal THC are recommended for people who desire only the effects of Cannabidiol "CBD" without the ramifications of failed THC drug testing for employment or sports and athletics participants undergoing THC drug testing. At this time we do not know the exact possible permutations, whether full spectrum, broad spectrum and isolate CBD or combinations are most beneficial and preferable or adverse to come to a definitive conclusion. However for consideration of our guests needs, we are trending more towards the CBD isolate for its potential relaxation, anxiety, stress, inflammation, and pain relieving properties for use in massage and facial massages. Although we favor most cannabinoids, for our customer's interests, a cannabinoid product with the minimum amount of THC that will avoid causing adverse random drug screening results for working people and athletes being tested for THC is our goal and mission that we consider with great care and due diligence.
Conclusion
The points above are the considerations, research, trial and error approaches performed prior to selecting a CBD product vetted for use at Honua Therapeutic Massage. Our final choice in a CBD oil tincture for use in the CBD Total Massage treatment is Game Up Nutrition. We selected Game Up because we have known about the owner's integrity and honor first and foremost. Secondly with the high cost of high potency high quality CBD oils, Game Up Nutrition's ingredients, price and potency, manufacturing is trustworthy and favorable in comparison to other makers. Lastly the flavor was most palatable out of many CBD oils we have used over the years with no discoloration, having a clear water like color with a light lime and coconut oil flavor.
Game Up Nutrition CBD Page
If you are in constant pain, anxiety, stress and dealing with inflammation issues, please do not hesitate to give us call to inquire more details about our new CBD Total Body Treatment (Game Up Nutrition CBD, Lab Blends Therapy Grade CBD oil and Buddha water soluble tea infused with CBD are utilized for this Custom Massage. For more information and professoinal feedback on CBD from the owner's of Game Up Nutrition, and the Martial Arts community please click Here. Mahalo