The Total CBD Massage treatment has launched Thanks to the help of therapists, alpha, beta test guests and after a four year research and personal experimentation endeavors.
The Key Attributes of this Massage Therapy Treatment are;
90 minute duration and 120 minute duration available.
Full Upper Body, Lower Body, Front and Back Side Customized Treatment.
Fully Customized Massage Therapy Treatment based on the client intake details provided by the Guest.
Focus Concentration areas guests specify for emphasis in the massage treatment
Variable Pressure based on preferences of the guest.
Unlimited variations and additions of massage modes, styles selected by the guest to suit the goals and conditions to provide optimum effectiveness.
Focused concentration on connecting problem areas.
Therapy and or Relaxation oriented based on the preferences of the guest.
In order to provide the most effective results, Honua Therapeutic Massage utilizes only the highest quality, owner integrity, CBD products suitable for professional therapeutic use available after searching and utilizing various vendors and products. The CBD Total Body Treatment is available in 90min. and 120min. durations to provide sufficient time for full body, lower, upper, front and back side including focus concentration on 1-2 areas of the body for 90min. and more than two specific problem areas of concentration for the 120min. duration. Prior to each appointment, identifying the specific conditions, goals and problem areas will be emphasized. Thereafter the connecting problem areas associated to the areas of pain, discomfort, strain, injury will be identified. Various modes of massage best suited for the guest's unique needs and conditions, including Deep Tissue Massage, Swedish, Lomi Lomi, Shiatsu, Stretching and other techniques, depending on the guest's conditions and results of the conference with their massage therapist will be implemented.
Potential Benefits of CBD Products Used in CBD Total Body Treatment
The CBD Total Body Treatment will include approximately 80mg of CBD combined per guest per treatment using three modes of delivery. The breakdown of CBD providers, how CBD is delivered and applied in treatment is detailed in the following;
Game Up Nutrition 1000mg CBD 30ml Oil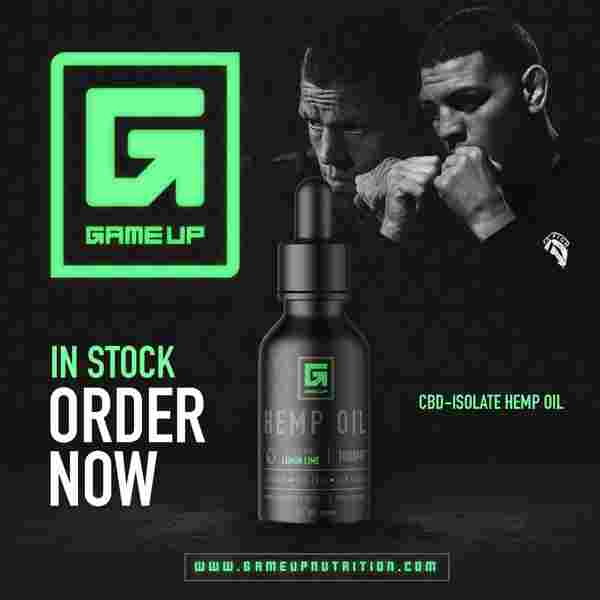 33mg CBD dose or 1ml tincture per treatment of Game Up Nutrition CBD prior to treatment will be utilized. Current research and studies show positive indications of;
Activating the 5-ht1A receptor sites assisting in the regulation of anxiety, appetite, addiction, pain, sleep, nausea, and vomiting at higher doses.
Positive contributor in treating insomnia, sleeping patterns and long term restful and deep recovery oriented sleep.
Naturally reduce chronic pain, inflammation, conditions from fibromyalgia, arthritis to cancer. The mechanism involves allosteric modulation of the mu and delta opioid receptors, enhancing the ability of these receptor sites to receive endogenous enkephalins.
One of the most astounding features of delivering high quality CBD oils into the bloodstream personally has been the
Calming and Quieting of the Racing Mind, worries, stresses and thoughts.
Many people including ourselves are busy have many thoughts, doubts, worries, tasks from life and work. Often we take these thoughts to bed and are unable to calm those thoughts, tossing, turning unable to enter sleep, adversely affecting our ability to reach deep delta wave level sleep cycle. For guests having these types of racing thoughts issues, mentally and physically fatigued from poor rest and inability to achieve restful sleep, including CBD before a nap or bed time at night to assist in improving restful sleep has been a welcome addition into our lives personally and worth the cost of including CBD into personal diet.
Biotone Lab Blends CBD Professional Massage 700mg CBD 348ml Oil
Approximately 44mg CBD dose per treatment of Lab Blends CBD Massage oil for the topical portion of CBD delivery. During treatment the custom massage will assist in absorption of the CBD oil into the skin through the follicles by directly applying the CBD oil on site to the affected inflamed areas, points of pain and soreness during the massage treatment. Biotone is a professional massage grade products provider for massage therapists and establishments that have been utilized on and off for several years. Their higher CBD dosage, relative cost and use of this oil during beta testing with the massage treatments compelled us to choose this item. Biotone Lab Blends CBD oil includes Hemp Seed oil to reduce skin irritation, Arnica and Comfrey extracts to relieve bruising and Arthritis pain symptoms.
Delivery of CBD to Cannabinoid Receptors near the dermal layers of the skin for on sight pain relief
Anti oxidative properties combating damage to the skin from oxidative stress, industrial pollutants, UV and Gamma ray exposure is an additional feature recommended for guests requiring custom facials and massage.
Buddha CBD Teas 5mg CBD per serving
5mg Water Soluble CBD dose of Buddha CBD Tea after treatment refreshment. Guests can choose between CBD infused Matcha Green Tea catechins and polyphenols to mitigate free radical waste formation or CBD infused Ginger / Turmeric Tea to help promote positive inflammation response, mitigate free radical waste formation and extend the effects of the massage post treatment during the guest's trip home. The combination of matcha green tea, turmeric/ginger blends and actual trial and palate, flavor of this tea compelled the selection of this product for use in the Total CBD Massage Treatment.
The Back Story
Why Game Up Nutrition Affiliate?
Game Up Nutrition was selected as the CBD provider of choice for Honua Therapeutic Massage. In a previous article CBD Selection Process, the four most important factors, the first two relating to Safety, honor and integrity of the owners of CBD providers, and CBD lab testing data. With the 2nd two reasons relating to developments in professional sports paving the way in providing reliable data and assisting people in the selection process of how, what and when to incorporate CBD into their diet. The reasons are;
Safety, Owner's integrity and honor. We can appreciate and respect Nate and Nick Diaz, the Owners of Game Up Nutrition for their integrity, honor, knowledge, experience and pioneering efforts in showing the many actual health applications of CBD in recovery, recuperation at the highest levels of professional mixed martial arts. We have been following the Diaz brother's fight career vicariously as supporters of martial arts early on in their fighting career. Nick Diaz is regarded with respect and honor in the hardcore Japanese mixed martial arts circles. As a student of Karate, Nick Diaz had admiration and respect for Japanese martial arts traditions, culture and the Pride FC rule sets. His Boxing, Karate integrated with Jiu Jiutsu is a beautiful master piece of art and creative display of how effective his composite style has been in near real life situations. His dismantling of champions such as Hayato Sakurai, Gomi Takanori during his appearances in Pride, Dream, Japan's Shooto 2002 Year End and Pancrase events have a lasting and memorable impact for martial arts supporters abroad. The most difficult hurdle to assess has been choosing a vendor owned by people with a history of high integrity and honor. Nick and Nate Diaz give us confidence and faith in their business practices and ethics to promote accurate publishing of ingredients appearing on their product labels.
Game Up Nutrition CBD lab test results indicated predominantly only CBD with negligible THC and other cannabinoid content. Therefore we can lend more credence of their CBD oil containing less than .03% THC to have a higher degree of reliability.
WADA CBD Rule Changes, Testing and Private Research and Developments in Pro MMA
An additional factor that helped us to decide in affiliating with Game Up Nutrition is observing closely, Nate Diaz use of his own Game Up Nutrition products and compliance with the United States Anti Doping Association "USADA" drug screening protocols who follow the World Anti Doping Association "WADA" protocols sanctioned by the IOC for use in screening Olympic athletes. As THC is one of the compounds tested during drug screening, more credence is lent to Game Up Nutrition's claims supporting the lab test results regarding the congruence of their product label and contents of their CBD products. Game Up Nutrition provided the affiliate opportunity to support and promote a quality company and be compensated for referring business. The cause to shed light on the health benefits of CBD is one that is noble and worth supporting. Thank you Game Up Nutrition!.
We discovered the higher the potency and more exotic the extraction, manufacturing processes, the higher the cost of CBD per milligram. Trying to find the highest potency, purity and highest quality of ingredients used available in a vendor at a relatively reasonable cost in practical reach as of this moment continues to be our mission in this endeavor. As Private research and development trailblaze these emerging sciences, standardized quality control measures, labeling, and testing will evolve alongside, similar to the trends in the recognition of hemp seed and hemp protein as a highly nutrient mineral dense, high quality amino acid food source.
UFC and Aurora Cannabis Inc. Joint partnership CBD study
We were very excited to learn of the news back when the announcement came on May 21, 2019. This undertaking is monumental. A for profit professional martial arts fight company and a leading Canadian government contracted distributor of medical cannabis and CBD products pooling their resources and expertise with an intrinsic interest in delving into the science and clinical research applications of CBD in increasing performance of UFC contracted fighters prompted us to ramp up our efforts. This level of motivation and capital investment provides for an opportunity to advance the understanding and discovering of new efficacies of CBD that public institutions such as the FDA and state health departments could never conceive of or venture into. As martial arts enthusiasts and supporters of MMA, we were introduced to CBD and its potential benefits from fighters talking about it back in 2015. Their dosing and usage compelled great interest in how their training recovery was being aided by including CBD into their diet.
Learning about CBD through the sentiments of professional martial arts players and fighters, and how CBD was helping them during their BJJ, Judo, Sambo, Capoeira, Taekwondo, Karate, Boxing, Muay Thai, Wrestling training with reducing inflammation, reducing pain and improving sleep and recovery from the rigors of intense high impact training camps and martial arts skills development has definitely raised significant attention as to CBD application in Massage and Facial Esthetics. We felt if CBD is effective to any extent in sports and competition as strenuous and stressful as MMA and other martial arts competition, we imagine the possibilities and the beneficial effects it could have on the general populace, working people, recreational sports hobbyists and travelers. We took cue from the fighters and started using CBD to determine on a personal level first if their claims had any truths to them. As the testing started, what was  understood is our genetics, physiology and response to CBD was positive without allergic reaction. Variations of testing started experimenting with varying doses, modes of delivery, various makers, home made concoctions etc., over the 4 year period. The conclusion reached was that there are benefits to using CBD. The experimentation continues with dosage and cycle durations, whether cycling on and off for periods of time or continuous application is more effective long term is still yet to be determined. We are now at a point where we can start offering CBD as part of our arsenal of tools to increase the effectiveness of massage, health and wellbeing for guests who wish to have treatment. For any inquiries please feel free to reach us by chat, phone, email and looking forward to assisting you personally. Mahalo
* The statements above have not been established by the FDA. CBD products are not intended to diagnose, treat, cure or prevent any disease.
* For guests considering this treatment and have not utilized CBD ever, a recommended and prudent precautionary measure will be to consult with your doctor or health professional first and determine any potential allergic reactions and tolerance for CBD.